Technical
We upgrade our production technology constantly to improve the quality. Precision in our control systems guarantees the reliability of quality in our products. We produce them exclusively with naturally available raw materials and we never use any artificial additives. We are conscious of our responsibility to protect the environment around us.
Quality
High level of customer satisfaction drives us to maintain and pursue high quality in our products ever since the inception. The management is consistent and persistent in the supply of best quality products. These are the factors responsible for shaping our corporate culture resulting in our proud records and achievements to date.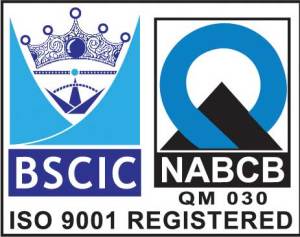 Our sole objective is to be the best, to produce the best and to a leader in technology, quality and innovation.
ISO 9001:2008 Certification
We have undergone the extensive process to obtain ISO certification for the past one year. Audited by BSCIC Certifications Pvt. Ltd. during October 2014, We are amongst the few companies who have achieved the certification in a very short span of time. The certification effort started in August 2014 and achieved the milestone of ISO 9001:2008 certification on October 04th, 2014.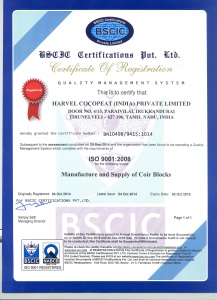 For our valuable clients, this means that they will be doing business with a company committed to quality management at every level. It was important for us to undertake this certification to assure ourselves and all stakeholders that we are on the right track for success both internally and externally.
As our client, you can feel satisfied that you are secure in doing business with a quality organization.
Our Quality Policy
"HARVEL COCOPEAT (I) PVT. LTD is committed to manufacture and supply Cocopeat ,to comply with requirements and continually improve the effectiveness of the Quality Management System, thereby ensuring Customer satisfaction"
Customers
Our main focus is always our customers. We earnestly fulfill their requirements. We respect their ideas and suggestions. Since we give more importance to individual requirements, we initiate personal dialogues and interactions with them. We produce coco peat and allied products accordingly. Our core competence lies in our understanding of the market trends and specificities of individual customers.
Logistical Support
We convey our shipments through nearby Tuticorin sea port. It is connected by national highways. We deliver the consignments right on time within a short notice keeping with accepted schedule. We have the capability to transmit all the containers from our factory with good packing and disciplined loading.
Tuticorin port is one the major sea ports in India. Shipments from Tuticorin move to almost all parts of the world.There are many leading container providers and numerous other logistics supports available in Tuticorin. This helps us to obtain competitive shipping prices and services. Our continued relationships with best forwarding agents help us to offer better services to our new customers too.
We consider that it is our duty to supply quality coco peat products in time to our customers. We would like to see them to earn optimum value for their money. This is what our name stands for.